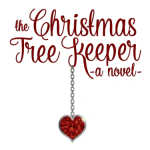 $2.00 off the paperback edition of The Christmas Tree Keeper
Available here,  must use this code at checkout: CZUZKQZL
The Kindle version is still on sale for $3.49 available on Amazon.
(This is like getting the print and ebook for a little more than the full price of the print book. Just trying to do my part to contribute to a Happy New Year.)
**
 The holiday tide has retreated, leaving long shadows and stretches of empty sand -ok, no sand here, but the room feels emptier where the tree had been standing and the corners are dim with all the extra lights packed away.
To compensate I've been deep cleaning closets. I can't decide if it is an end-of-year tradition or a start-of-the-new-year ritual. Either way, it feels good to claim some space by way of organizing. Can I help it if an Arizona winter feels like a New England Spring and I want to do a little cleaning?